Olympics medals table: Who's winning Tokyo 2020 so far?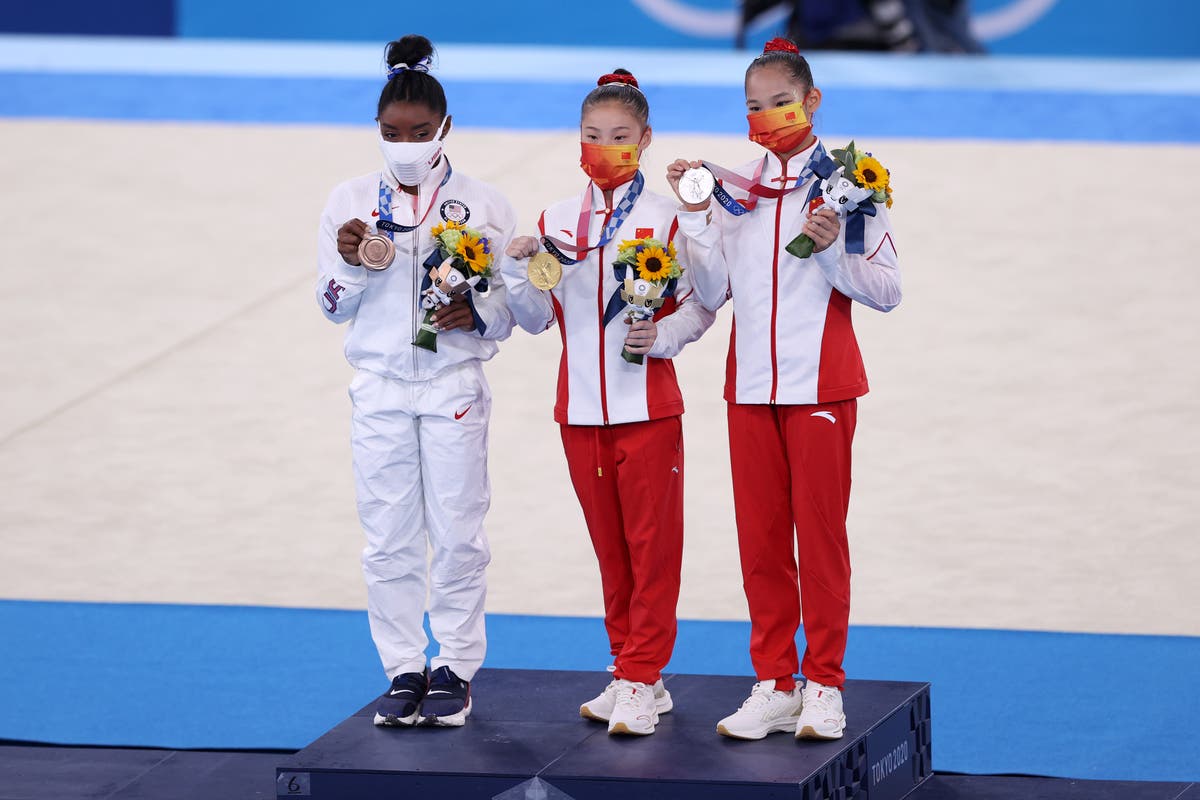 China lead the medal table at the Tokyo Olympics at the end of day 15 of the Games.
The nation has 38 gold medals so far, putting them two clear of the second-placed United States.
Hosts Japan, meanwhile, trail the USA by nine golds.
Great Britain are fourth in the standings with 20 golds – only behind the fifth-placed Russian Olympic Committee on silver medals – while Australia are sixth with 17 golds.
FOLLOW LIVE: Latest updates from the Olympic Games
Here is a look at the medal table in full:
Here is the medal table in full (updated as of 8pm BST Saturday 7 August)
| | | | | | |
| --- | --- | --- | --- | --- | --- |
| Rank | Country | Gold | Silver | Bronze | Total |
| 1 | China | 38 | 31 | 18 | 87 |
| 2 | United States | 36 | 39 | 33 | 108 |
| 3 | Japan | 27 | 12 | 17 | 56 |
| 4 | ROC | 20 | 26 | 23 | 69 |
| 5 | Great Britain | 20 | 21 | 22 | 63 |
| 6 | Australia | 17 | 7 | 22 | 46 |
| 7 | Germany | 10 | 11 | 16 | 37 |
| 8 | Netherlands | 10 | 11 | 12 | 33 |
| 9 | Italy | 10 | 10 | 19 | 39 |
| 10 | France | 9 | 12 | 11 | 32 |
| 11 | New Zealand | 7 | 6 | 7 | 20 |
| 12 | Brazil | 7 | 4 | 8 | 19 |
| 13 | Hungary | 6 | 7 | 6 | 19 |
| 14 | Canada | 6 | 6 | 11 | 23 |
| 15 | South Korea | 6 | 4 | 10 | 20 |
| 16 | Cuba | 6 | 3 | 5 | 14 |
| 17 | Poland | 4 | 5 | 5 | 14 |
| 18 | Czech Republic | 4 | 4 | 3 | 11 |
| 19 | Norway | 4 | 2 | 1 | 7 |
| 20 | Jamaica | 4 | 1 | 4 | 9 |
| 21 | Spain | 3 | 8 | 6 | 17 |
| 22 | Sweden | 3 | 6 | 0 | 9 |
| 23 | Switzerland | 3 | 4 | 6 | 13 |
| 24 | Denmark | 3 | 4 | 4 | 11 |
| 25 | Kenya | 3 | 4 | 2 | 9 |
| 26 | Croatia | 3 | 3 | 2 | 8 |
| 27 | Iran | 3 | 2 | 2 | 7 |
| 28 | Belgium | 3 | 1 | 2 | 6 |
| 29 | Slovenia | 3 | 1 | 1 | 5 |
| 30 | Georgia | 2 | 5 | 1 | 8 |
| 31 | Chinese Taipei | 2 | 4 | 6 | 12 |
| 32 | Turkey | 2 | 2 | 9 | 13 |
| 33 | Serbia | 2 | 1 | 4 | 7 |
| 34 | Bulgaria | 2 | 1 | 2 | 5 |
| 35 | Uganda | 2 | 1 | 1 | 4 |
| 36 | Ecuador | 2 | 1 | 0 | 3 |
| 37 | Israel | 2 | 0 | 2 | 4 |
| 37 | Uzbekistan | 2 | 0 | 2 | 4 |
| 39 | Greece | 2 | 0 | 1 | 3 |
| 39 | Qatar | 2 | 0 | 1 | 3 |
| 41 | Bahamas | 2 | 0 | 0 | 2 |
| 41 | Kosovo | 2 | 0 | 0 | 2 |
| 43 | Ukraine | 1 | 5 | 12 | 18 |
| 44 | Belarus | 1 | 3 | 3 | 7 |
| 45 | Romania | 1 | 3 | 0 | 4 |
| 45 | Venezuela | 1 | 3 | 0 | 4 |
| 47 | India | 1 | 2 | 4 | 7 |
| 48 | Hong Kong, China | 1 | 2 | 2 | 5 |
| 49 | Philippines | 1 | 2 | 1 | 4 |
| 49 | Slovakia | 1 | 2 | 1 | 4 |
| 51 | South Africa | 1 | 2 | 0 | 3 |
| 52 | Austria | 1 | 1 | 5 | 7 |
| 53 | Egypt | 1 | 1 | 4 | 6 |
| 54 | Indonesia | 1 | 1 | 3 | 5 |
| 55 | Ethiopia | 1 | 1 | 2 | 4 |
| 55 | Portugal | 1 | 1 | 2 | 4 |
| 57 | Tunisia | 1 | 1 | 0 | 2 |
| 58 | Ireland | 1 | 0 | 2 | 3 |
| 59 | Estonia | 1 | 0 | 1 | 2 |
| 59 | Fiji | 1 | 0 | 1 | 2 |
| 59 | Latvia | 1 | 0 | 1 | 2 |
| 59 | Thailand | 1 | 0 | 1 | 2 |
| 63 | Bermuda | 1 | 0 | 0 | 1 |
| 63 | Morocco | 1 | 0 | 0 | 1 |
| 63 | Puerto Rico | 1 | 0 | 0 | 1 |
| 66 | Colombia | 0 | 4 | 1 | 5 |
| 67 | Azerbaijan | 0 | 3 | 4 | 7 |
| 68 | Dominican Republic | 0 | 3 | 2 | 5 |
| 69 | Armenia | 0 | 2 | 2 | 4 |
| 70 | Kyrgyzstan | 0 | 2 | 1 | 3 |
| 71 | Mongolia | 0 | 1 | 3 | 4 |
| 72 | Argentina | 0 | 1 | 2 | 3 |
| 72 | San Marino | 0 | 1 | 2 | 3 |
| 74 | Jordan | 0 | 1 | 1 | 2 |
| 74 | Nigeria | 0 | 1 | 1 | 2 |
| 76 | Bahrain | 0 | 1 | 0 | 1 |
| 76 | Lithuania | 0 | 1 | 0 | 1 |
| 76 | Namibia | 0 | 1 | 0 | 1 |
| 76 | North Macedonia | 0 | 1 | 0 | 1 |
| 76 | Saudi Arabia | 0 | 1 | 0 | 1 |
| 76 | Turkmenistan | 0 | 1 | 0 | 1 |
| 82 | Kazakhstan | 0 | 0 | 8 | 8 |
| 83 | Mexico | 0 | 0 | 4 | 4 |
| 84 | Finland | 0 | 0 | 2 | 2 |
| 85 | Botswana | 0 | 0 | 1 | 1 |
| 85 | Burkina Faso | 0 | 0 | 1 | 1 |
| 85 | Ghana | 0 | 0 | 1 | 1 |
| 85 | Grenada | 0 | 0 | 1 | 1 |
| 85 | Ivory Coast | 0 | 0 | 1 | 1 |
| 85 | Kuwait | 0 | 0 | 1 | 1 |
| 85 | Malaysia | 0 | 0 | 1 | 1 |
| 85 | Moldovo | 0 | 0 | 1 | 1 |
| 85 | Syria | 0 | 0 | 1 | 1 |